One of the most common questions that we get is what is the difference between Italian and Chinese tiles? The answer is that quality wise, very little - all of our tiles come with a 10 year guarantee and they all will last for decades without fading, scratching or absorbing water.
So why choose Italian made?
Tiles are one of the elements that make the most impact on the look and feel of a space and also are the hardest to replace or update later on, so it makes sense to spend a little more to get the look that you love than compromise and buy something that you'll want to replace in a few years.
Global Italian companies put more money towards research, design and production. This results in a tile that is well thought out, has a more accurate design and is an excellent replica of natural materials such as marble or stone. These high-quality tiles have many different faces and variation, therefore, the pattern is less likely to be repeated, making them look more realistic and natural.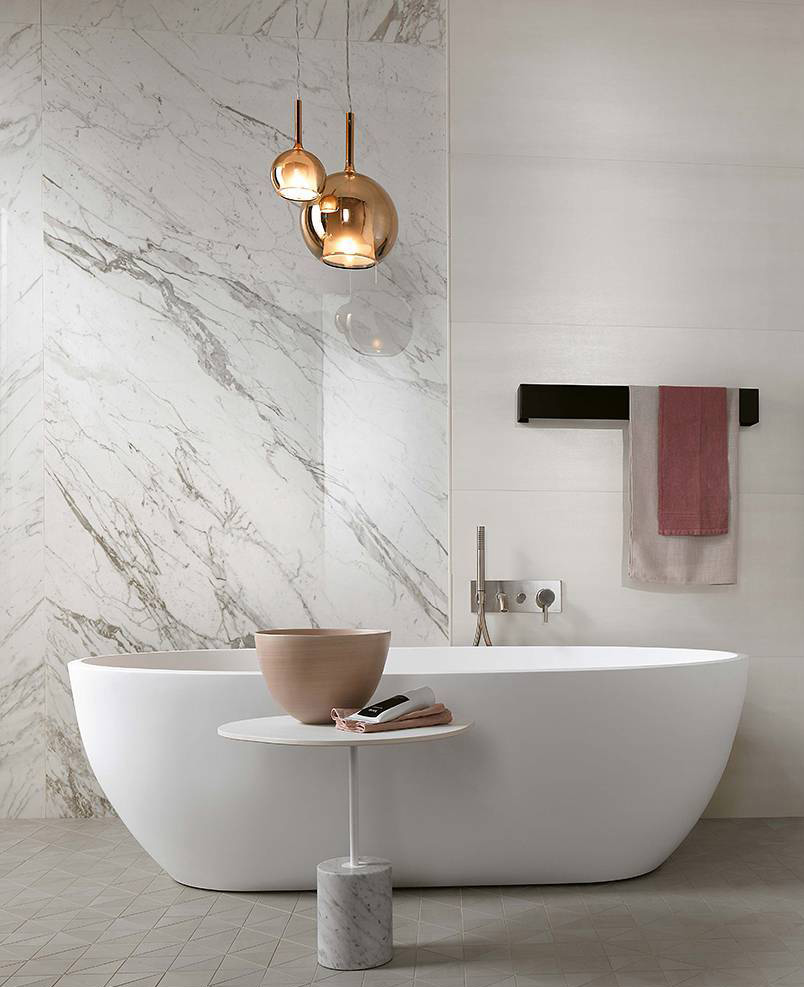 Italians are leading the way with new designs, they have design teams who study the natural product for beautiful replicas and are at the forefront of new ideas and designs. Tile Space owner Peter Roberts and his team visit Cersaie tile fair in Bologna, Italy every year to stay on top of key trends and select the best product. Every product that we import is of the highest quality and due to our strong relationships with suppliers, we offer a 10 year guarantee and a 15 year system warranty on all our tiles. We stock the latest in Italian tiles by leading Italian tile brands such as Ceramiche Atlas Concorde, Italgraniti, Bisazza Mosaics, Florim and LEA Ceramics.
One of the difficulties with manufacturing porcelain tiles is creating a true black or true white, when it comes to colour, cheaper tiles can be very slightly green, brown or blue. Porcelain tiles are fired at over 1200 degrees and with complicated chemical reactions happening, it's hard to get the colour exactly right and perfectly repeatable for every batch. Large Italian companies have invested in cutting-edge technology that allows them to complete bigger runs and can produce more consistent true colour.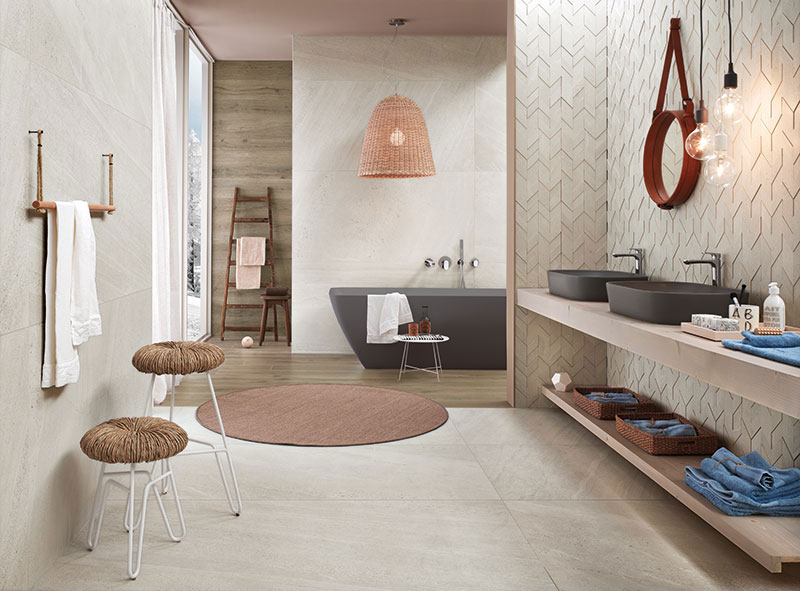 Tile faces can vary from just 1 on basic tiles to 30+ on premium ranges. A tile with 20+ faces will look extremely realistic when laid, as it is less likely to see two tiles that look the same. A tile with fewer faces will repeat the same pattern over and over and when a pattern is noticeable it will look more artificial. A high-quality tile will have a degree of variation between the tile faces to make it look more authentic. The below photo on the right shows a tile with just 5 faces and a repeat pattern, in comparison to a tile with 69 faces (left) where the marble looks more realistic.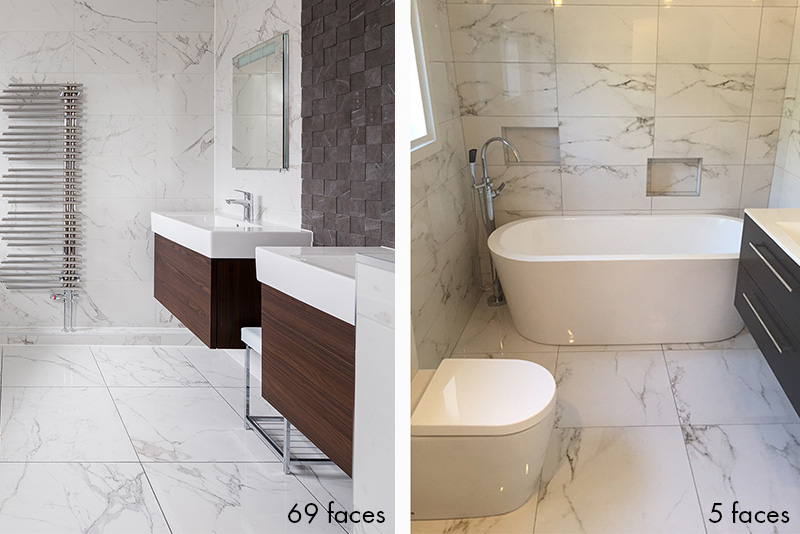 Below is an example of a non-Italian marble look tile with just 1 face laid.
Top Tip: Discuss tile faces with your tiler and encourage them to separate matching faces for a more realistic look.
To get a true understanding of Italian design we recommend putting a few pieces of the cheaper equivalent side by side, the differences in design and mass quickly become obvious. We also suggest working out the total cost, a cheaper tile can seem more appealing when you look at the price per metre square but when you calculate the total cost you can in fact only be paying a small amount extra to get long-lasting quality that you will love for decades