Do you have so many exciting tile ideas for your new build or renovation that you simply feel overwhelmed by the possibilities? If so, we have good news for you! Tile Space, New Zealand's favourite for all things tile, recently introduced a game-changing tile visualiser or rendering tool called Design Space that lets you quickly and easily get an ultra-realistic 3D preview of any tile idea you can come up with.
.
What Is Design Space?
Design Space is an innovative and unique 360-degree tile visualiser service that creates a render of your own room, be it a bathroom, kitchen or living area. It's an exclusive service where a Tile Space consultant will help you select tiles and then put them into a customised render of your exact space! It often only takes 10 minutes!
Book your consultation right here at your local Tile Space store and pop in with a floor plan of your space to see a customised, live render.
Here's an example of a bathroom tile render,

Brought to you by Spark Vision
\
.
The 4 Big Benefits of Design Space: Why You Should Use Our Tile Rendering Service For Your Design Project
.
1. Smooth and Simple Tile Selection
No more endless hours spent browsing through countless tile samples! With Design Space, the tile selection process becomes much more straightforward - you can pick multiple floor and wall tiles and ensure the tile colours, tapware and accessories all work together nicely.
Featured Guide: How To Use Design Space
.
2. Realistic Rendering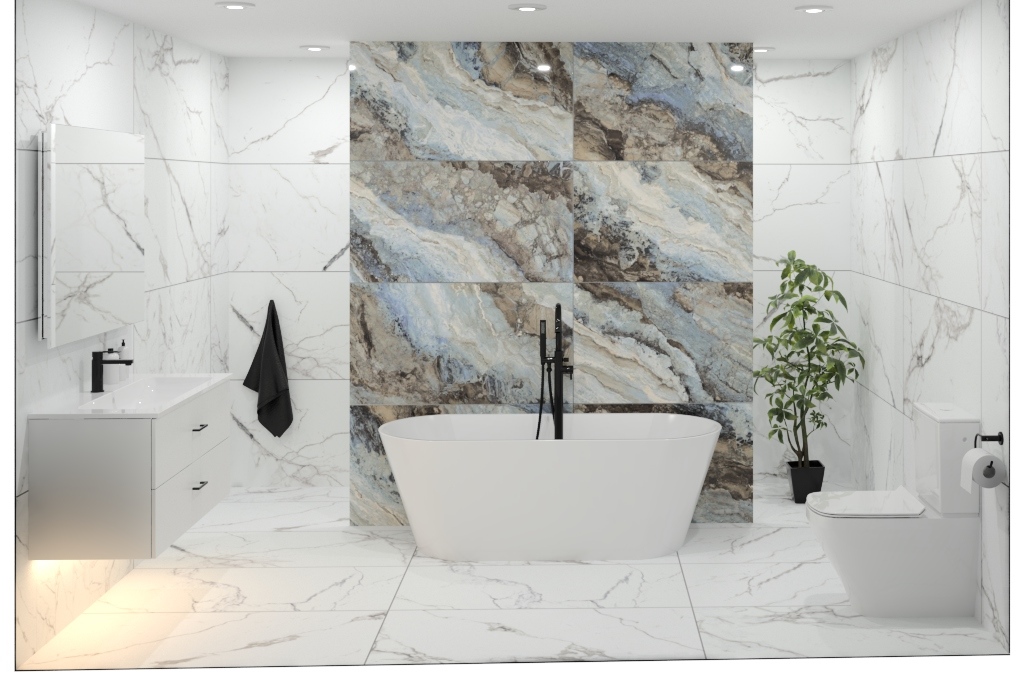 Design Space is much more advanced than a basic tile visualiser app, where you have limitations such as only seeing texture and colour. With Design Space, you get a full 3D experience that incorporates light, shadow and reflections. We design YOUR space!
.
Complete Customisation
Design Space goes beyond just tile selection. It empowers you to customise tile patterns, colours, and layouts to match your unique vision. You get a complete 360-degree view of your bathroom or kitchen to scale!
There is no better way to visualise how the whole room looks together. You also get emailed copies of your render with different tile options so you can choose which ones you like best.
.
4. Save Time and Money On Tile Selection
Retiling can be a bit of a rollercoaster, involving time and financial commitments. Design Space is here to make the process smoother and more efficient. By visualising your bathrooms, kitchens or living rooms with different tile options, you can confidently make informed decisions, saving both time and money.
What's more, our in-store design consultants can help guide you on your choices and offer fantastic recommendations!
.
Book A Design Space Consultation Today!
Ready to get your tile project started? Now that you know more about our exclusive service, why not book an appointment at your local Tile Space store and get your render today? If you want more tile ideas, head to our inspiration hub here or browse our floor and wall tile collection for the latest designs.
. . . .