Designing a bathroom, whether it's for a new build or a renovation, is exciting and fun. From picking a colour theme to choosing materials and planning tile layouts, it's a great opportunity to express your personal style and create a unique showstopper bathroom. To make this process even more fun and inspiring, we've gathered 10 of the most iconic tiled bathroom ideas that are trending in NZ.
Our In-house designers and tile specialists have looked at trends and classic decor styles to pick 10 of the best bathroom tile ideas that range from contemporary, minimalist-style bathrooms to spa-like bathrooms with natural, earthy tones and glamorous classic bathrooms featuring luxurious marble-look tiles.
But it doesn't end there. We've also brought in a tile expert to answer some of the most frequently asked questions about styling bathroom tiles. So without further ado, let's take a look at some of our favourite bathroom tile ideas!
.
10 Best Tiled Bathroom Ideas
.
At Tile Space, we have a huge range of tiles available online as well as in-store at our warehouses across NZ.
Our tiles come in over 1,000 styles, including gorgeous decorative colours, tones, shapes and sizes. We help mix and match these effects for great bathroom tile ideas, which are,
1. Luxurious marble-look tiles
2. Textured warmth with concrete-look tiles
3. Eye-catching limestone-look tiles
4. Striking contrasts: mixing a plain tile with a patterned tile
5. Tiles with airy Spanish charm
6. Black and white mosaic tiles
7. Sweet and simple tile patterns
8. Woodland tones
9. Back to nature with green tiles
10. A modern and upbeat bathroom tile design .
.
1. Luxurious Marble-Look Tiles
.
Brighten your bathroom with the Marvel Calacatta Matt Tile from walls to floor. This tile works fabulously together with dark colours and bright whites. Marble-look tiles made from porcelain or ceramic are a great way to achieve a luxurious look in your bathroom at a fraction of the cost compared to natural marble. Marble-effect tiles are,
Durable and long-lasting
Low maintenance
Affordable
Variety of colours, patterns and styles available
Easy to clean
Can be used on bathroom walls or floors
Here are three of the most popular tiles from our marble-look tile collection.
.
2. Textured Warmth With Concrete-Look Tiles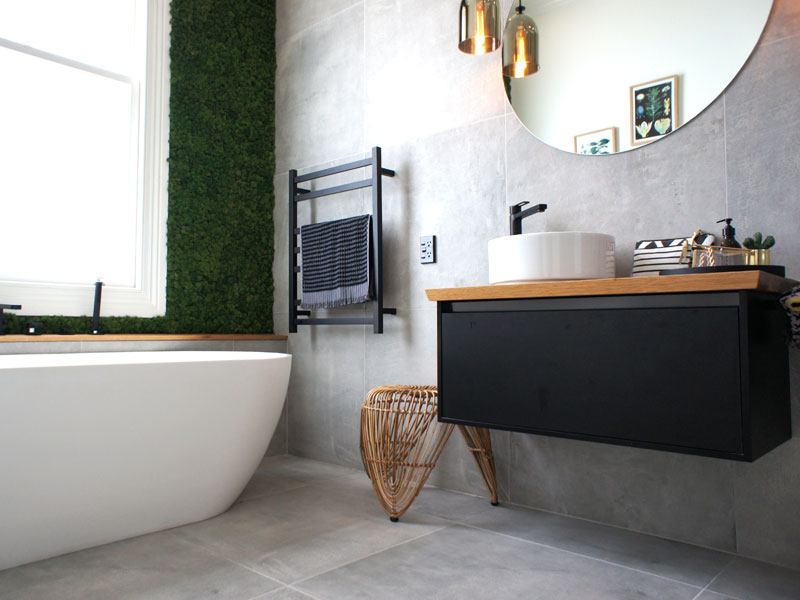 Choose the Cementia Grey tile to cover bathroom walls and floor and create a neutral, cohesive oasis.
The textured surface reflects the glow of natural light, drawing attention to other shades and colours in the room.
Other tiles from our cement-look tile collection include:
.
.
Like this style of tile? Don't miss these helpful guides on concrete-look tiles.
Concrete Tile Trend: 6 of The Best Concrete Look Tiles for NZ
The Beginner's Guide to Concrete Look Tiles
5 Practical & Classic Concrete Look Tile Ideas
.
3. Eye-Catching Limestone-Look Tiles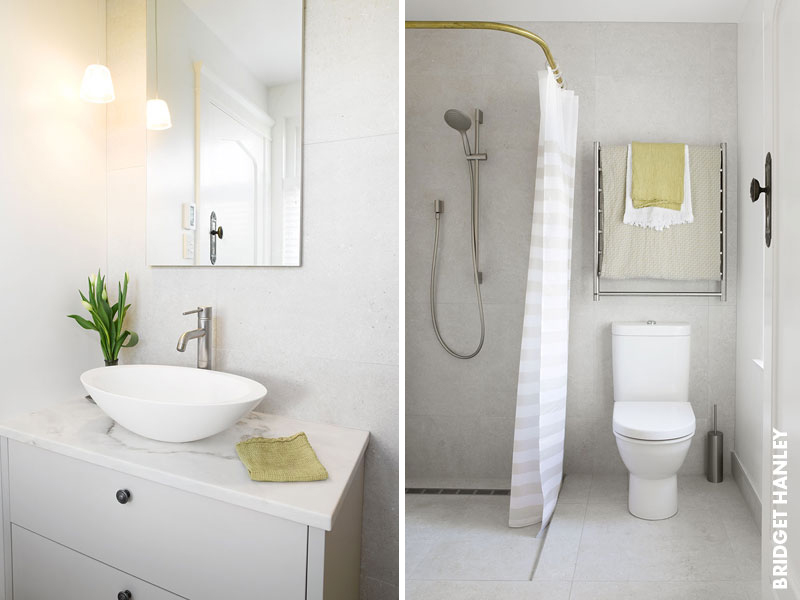 .
This bathroom by Mid Century Design uses our Beren Light Grey combined with bright whites to create a sparkling finish. The beauty of the limestone look is in the detail with its naturally inspired specks and indents.
Our porcelain and ceramic stone-look tiles are a great alternative to natural stone tiles, as they offer many benefits such as;
Easier to install than natural stone
More affordable than natural stone
Easy to clean and maintain
Wide variety of colours, shapes, sizes, and textures available
Like the natural look? Check out this Modern Classic Design using Sandstone-Look and Subway tiles.
.
4. Striking Contrasts: Mixing A Plain Tile With A Patterned Tile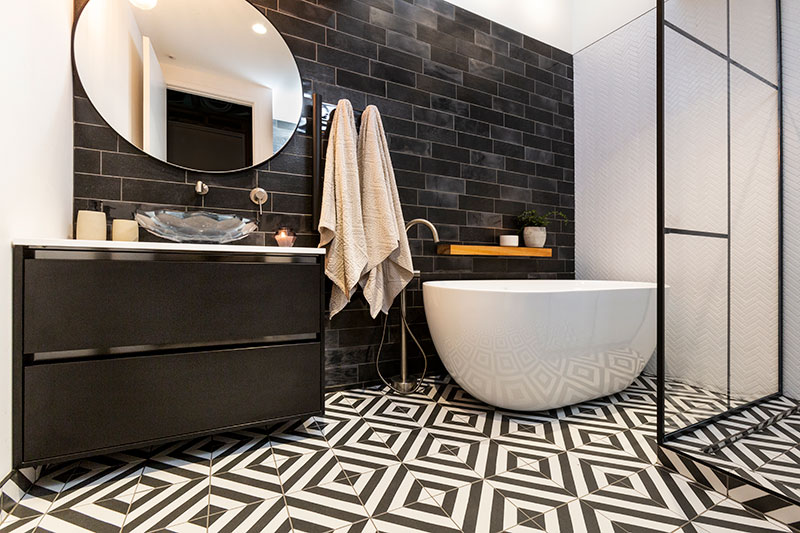 .Create a unique focal point in your bathroom with this unique combination of Diesel camp mix subway tiles and Gotcha Grafito Moroccan-striped patterned tile for the floor.
The dark colours of the Diesel Camp tile will provide a bold contrast to the intricate patterns of the Gotcha Grafito, creating an eye-catching design that is sure to make a statement.
Featured: Coloured and Textured Bathroom Tile Trends 2023
.
5. Tiles With Airy Spanish Charm
.
The light, bright patterns of our Ladaki Gris floor tiles bring the sunny southern regions of Spain right into your home.
Explore more of our decorative tiles here.
.
6. Black And White Mosaic Tiles
These intricate patterns, created with the Harrow Grafito tiles, are an absolute treat for the eyes.
Here's another black-and-white mosaic tile look that uses the Octagon 40D-MW/0790 White/Black tile.
.
Explore our mosaic tile collection here.
.
7. Sweet And Simple Tile Patterns
.The subtle repetition of the textured subway Costa Onda White Matt tile brings a minimalist, clean consistency to your bathroom. Explore more white tile bathroom ideas here.
.
8. Woodland Tones
Here we see the Navona Bone Vein creating a smooth and woody effect that's a winner every time.
Timber-look and stone-look tiles can both be used to achieve this look which can make your bathroom feel like a plush spa.
.
9. Back To Nature With Green Tiles
Bring the bush inside via mossy green feature walls decorated here with Moss Green Subway Tile. Here's another green tile look we love that's created using the Magma Malachite Matt 13.2.
..
10. A Modern And Upbeat Bathroom Tile Design
Set a warm and friendly tone with Colonial Blue Tile. Their modern handmade design adds the perfect touch to a comfortable bathroom.
Explore more coloured and textured bathroom tile trends here
Styling Bathroom Tiles: Design Tips From A Kiwi Interior Designer
Tile Space in-house designer, Moet Walker, shares her insights into bathroom tiling.
.
Is a fully-tiled bathroom a good idea?
Yes, fully-tiled bathrooms are the recommendation this is because it makes your bathroom more durable as tiles are easy to clean and maintain, whereas painted walls are known to age badly in bathrooms due to steam and mould.
While it may seem like an easy and budget-friendly option, the truth is, painted bathroom walls don't last as long as tiled walls. Because moisture, such as steam from your shower, can sneak its way through the paint and create unsightly texture, bubbles, and peeling.
Don't forget to check out our Guide To Waterproofing Your Bathroom and this Beginner's Guide to Bathroom Tiles
.
What parts of the bathroom should be tiled?
If you don't want to tile the whole bathroom, then it is recommended to tile the following areas;
Bathroom floors
Behind the vanity
Not tiling these areas can lead to water damage, mould growth, and other costly repairs.
Take a look at our guide helpful guide on shower floor tile ideas for more details on styling these areas.
.
How do you modernise a tiled bathroom?
Fully tiling a bathroom modernises the space. Also, installing XL and large format tiles creates a modern, seamless look.
But, if you want to modernise your current bathroom without re-tiling, here are a few suggestions,
Re-grout your tiles - Grout can become discoloured over time as a result of dirt and grime. Re-grouting can refresh a bathroom without the need to replace the tiles.
Changing accessories and fixtures - Replace your outdated bathroom accessories like vanities, mirrors, and handles with what's trending.
For more info on renovating a bathroom, take a look at this Ultimate Guide On How to Renovate A Bathroom In NZ.
.
Should you tile a bathroom floor or wall first?
It's always best to start with the floor first. By doing this, the bottom row of tiles on the wall and corners will align nicely with the floor tiles, resulting in a cohesive and sophisticated appearance.
.
Where to shop for bathroom tiles in New Zealand?
Come and see us in-store to discuss your dream bathroom, and we'll help you choose the best tiles for your project and help you plan the tile layout with our new visualiser tool. Just bring photos of your current bathroom, and we'll bring your ideas to life!
Browse our range of floor and wall tiles here, and visit our Bathroom Inspiration page for more ideas. If you want to know more, book a free consult with one of our tile consultants.
.