From calming to playful, our wide variety of tiles at Tile Space reflects New Zealand's style evolution and the huge range of options available. Get inspired with these four bathroom tile trends showcasing the stunning colour and texture effects available from Tile Space.
Here are the tile trends covered in this article:
.
Dazzling Terrazzo
Terrazzo is the ancient Venetian art of embedding marble chips in concrete. Our Terrazzo tile range made from porcelain presents a modern, more affordable reimagination of this ancient art. Porcelain terrazzo tiles are hard-wearing and water-resistant; therefore, they are a better option for modern NZ bathrooms than the traditional version.
Browse through our wide collection of terrazzo tiles, which includes the stunning Medley Range.
.
Quick Guide: 3 things to consider when choosing tiles
.
Vibrant and Playful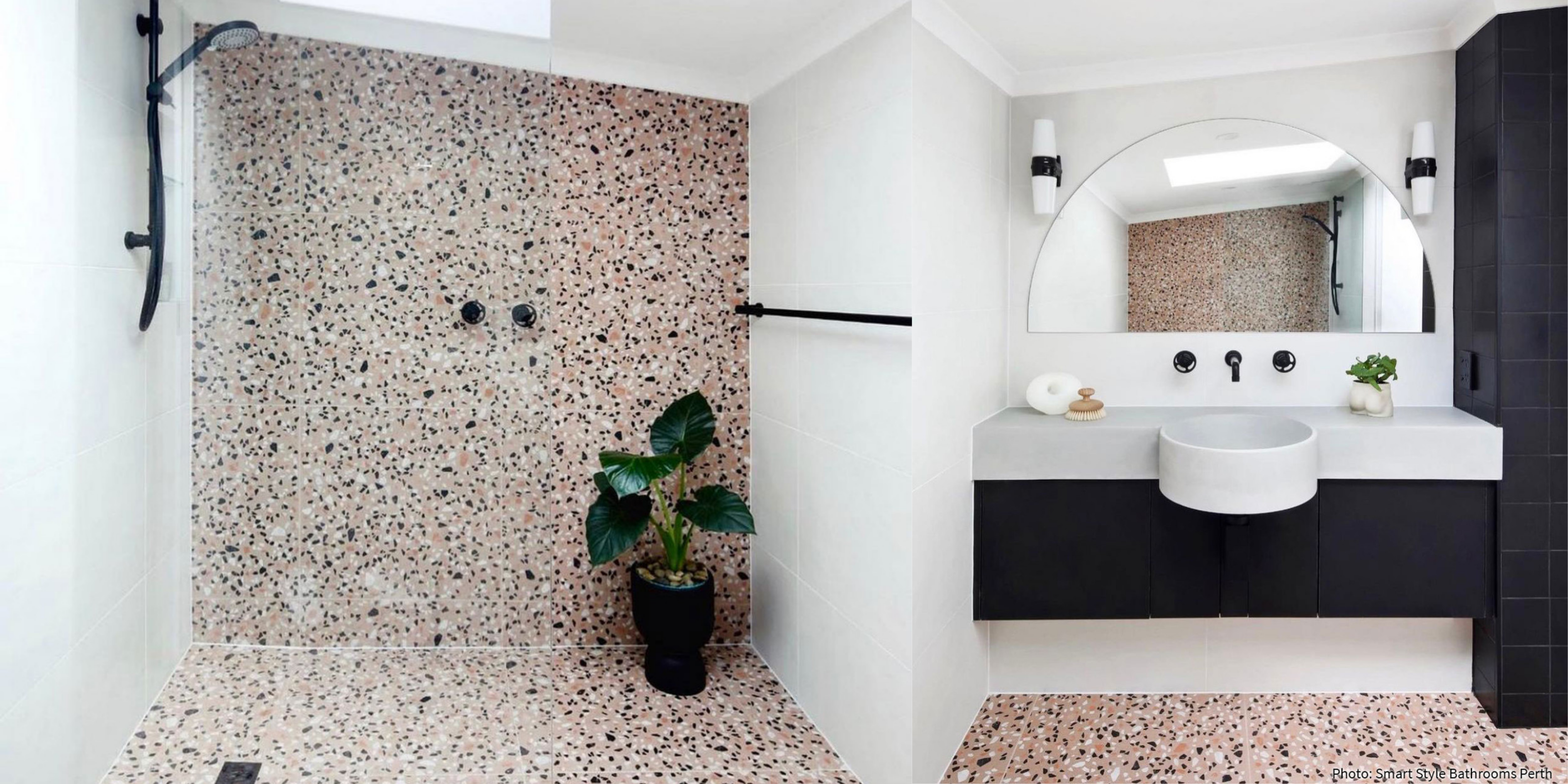 Photo: Smart Style Bathrooms Perth
These Medley Pink Classic tiles create a lively feature wall and floor section to define the shower space.
With their organic patterning, the large tiles blend seamlessly into a hypnotic sea of marble chips over a peachy base.
Medley Pink Classic 60

A terrazzo-inspired Italian porcelain tile with a peach pink base.
Bold Matt Minerals
Medley Green Pop | Medley Dark Grey Rock
In this contemporary bathroom look, we see matt tiles with bold mineral chip designs bringing balance and calm to the surroundings.
The lush pink and green Medley Green Pop tiles are used sparingly to highlight the bathtub platform and inbuilt wall shelf. The Medley Green Pop blends perfectly with the surrounding green tiles to accentuate the pink and green tiling.
.
Medley Green Pop 60

A modern terrazzo-inspired Italian porcelain tile.
On the shower walls, you can see the Medley Dark Grey Rock tiles, which add a dramatic touch to the look with their matt black and white coloured chips. The effect created is a dazzling illusion of gloss.
Medley Dark Grey Rock 60

Italian porcelain tile with a dark grey base and a matt finish.
Calming Neutral Contrasts
Using tiles in shades of white, black, and grey allows for greater focus on shapes and textures.
Photo: The Forest Cantina
In this bathroom, the vertical Artisan White Gloss subway tiles in varying shades contrast perfectly with the speckled Ecostone Oslo floor tiles. The contrasting visual textures bring stability to the bathroom as a whole.
Our Ecostone range is a natural terrazzo tile made from cement and marble chips.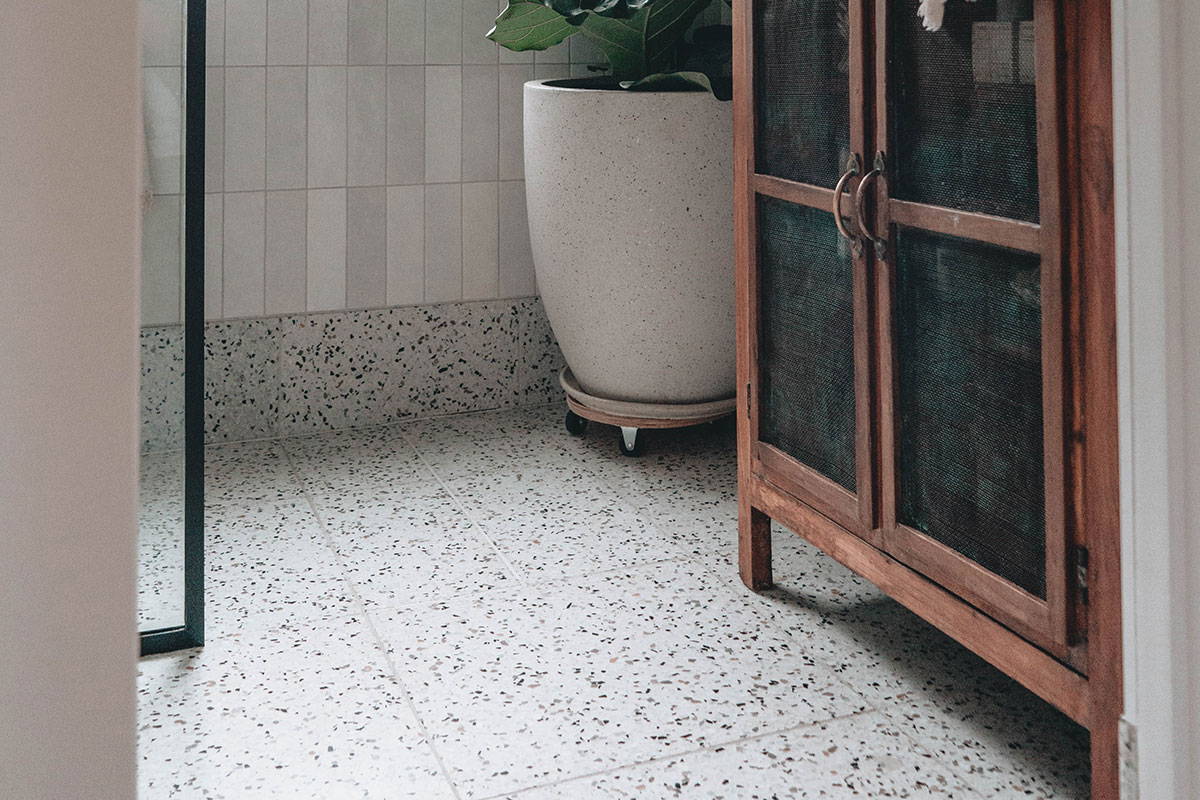 The tiles are made using an innovative vibrating compaction method, which significantly increases their durability.
Because Ecostone is made from concrete and not porcelain, it has to be sealed after installation.
Here are a few more reasons to choose Ecostone tiles,
Environmentally-Friendly
Made with 75% of Stone
Endless Variety, and Well-Stocked
Made in Italy under Premium Standards
Related Guide: Natural and Neutral Nordic Bathrooms
.
Finger Tiles
Finger tiles can add a gorgeous textural component to your bathroom and are ideal for use on feature walls.
It's essential to choose your grout colour carefully with these tiles. The perfect backdrop to curves.
In these two bathrooms, the delicate pattern of the finger tiles makes an attractive contrast against the curves of the basin and mirror. This distinction is accentuated by layering smooth surfaces over the textured background.
The subdued colours of the Kyoto Concave White Gloss and Yubi Cloud Gloss draw the eyes more towards the tiles' unique texture. The light grout also keeps the eye centred on the tiles themselves.
Yubi Cloud Gloss Finger Mosaic

A white finger mosaic, also known as a 'KitKat tile' in a gloss finish

Kyoto Concave White Gloss Finger Mosaic

A KitKat tile in a gloss with a subtle blue speckle throughout.
.
Featured Guide: The Beginner's Guide to Bathroom Tiles
.
Parallel Curves and Corners
Bathrooms by bathrooms_in_auckland & Ria Gleason and Jessica Valintine Design
The bathrooms pictured here feature mirrors and basins with curved edges. They reflect the finger tile pattern with their elongated shapes.The addition of curves softens the tight straight lines of the tile.
The soft pink hue of the Yubi Blossom Gloss tile pairs harmoniously with the natural cabinet.
Yubi Blossom Gloss Finger Mosaic

A soft pink finger mosaic or KitKat tile.
White grout works together with the rounded mirror and basin to break up the parallel lines.
Using white tiles like Straight Bone White Matt draws more attention to their shapes. As a result, this bathroom has a strong focus on parallel lines. These lines accentuate the elongated mirrors and basins oriented vertically and horizontally.
Straight Bone White Matt Finger Mosaic

A white finger mosaic in a matt finish.
.
Large Format Tiles
Large format tiles mean fewer grout lines to break up the tiled surface, making for a calm and cohesive design, not to mention easier cleaning!
Marble chips and swirls
The swirling patterns of the Lombarda Grigio Matt and Orobico Grey Honed tiles are accentuated when used with minimal grout lines.
Grout should be minimal and neutral in tone to bring out the best in the gorgeous sea of texture.
.
Tree-like textures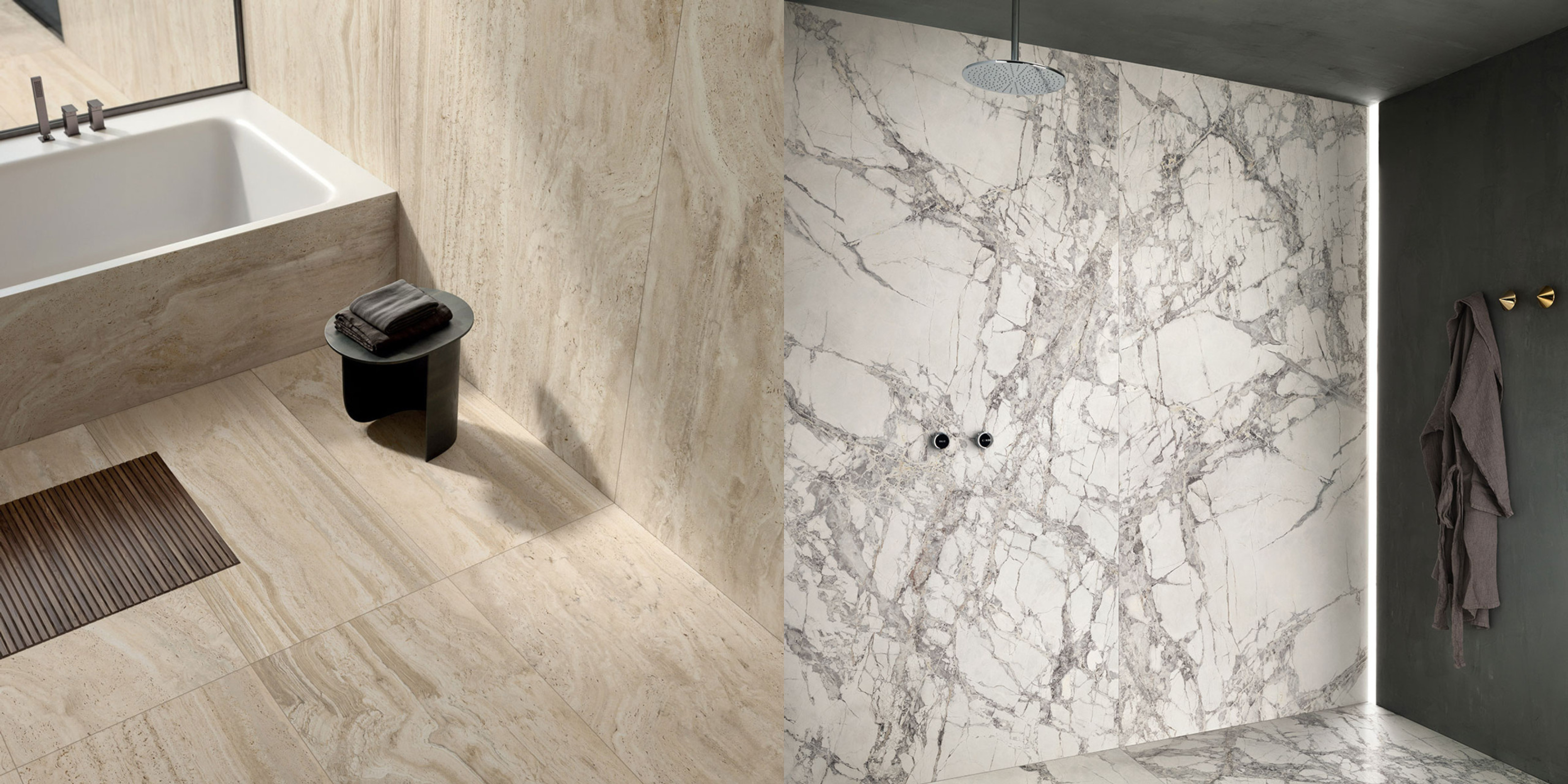 These surfaces reflect nature in the woody colour of Navona Honey Vein and the branching patterns of Invisible Light Satin.
The size of the tiles allows for large planes of organic patterning. Grout can be a distraction between these patterned tiles. Keeping it neutral gives the impression of close transitions from one tile to the next.
Navona Honey Vein Grip

A practical and beautiful tile that's easy to maintain.
Blues and Greens
Calm blues and greens create a relaxing ambiance in your bathroom. Our range of handmade look tiles is brilliantly coloured and textured for your bathroom oasis.
.
.
Rolling Greens
.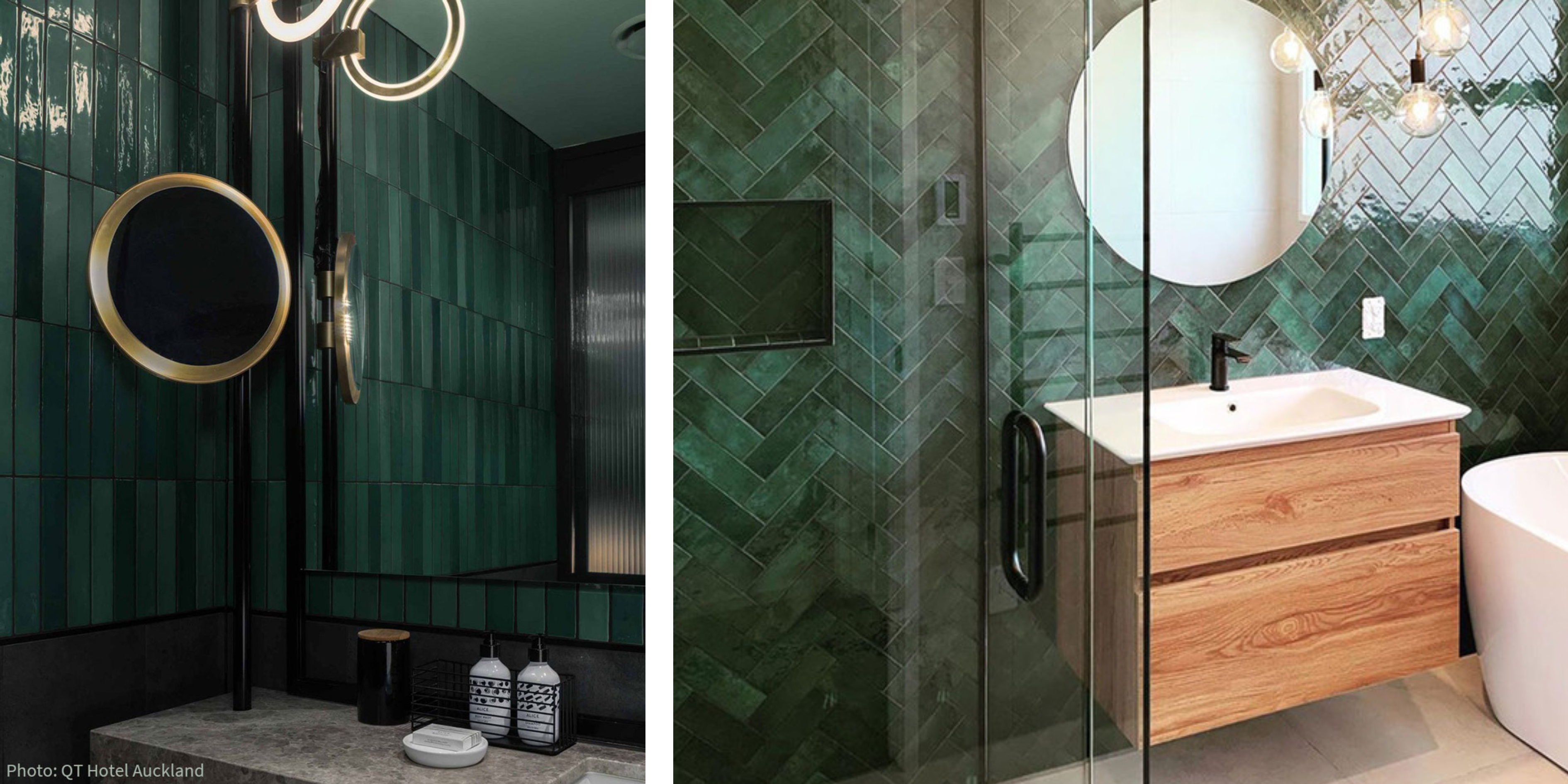 Piastrella Oliva | Artisan Moss Green
The vertical and herringbone laying patterns of these subway tiles combine with their varied shades to a beautiful effect.
Piastrella Oliva tiles in shades of soft green are laid vertically for a clean flow of movement. Their textured surface produces a pleasing wave-like reflection. White grout brings out the highlights in the tiled wall. Artisan Moss Green tiles are seen here in a herringbone pattern that accentuates their deep, complex colours.The grout is light-coloured and minimal, showing the lines of the tiles without taking attention from the tiles themselves.
.
Artisan Moss Green Gloss

A high variation, moss green Spanish ceramic square wall tile.
Shades of Blue
These tiles display light and dark hues in different ways. The square Toki Chuva Gloss tiles create a fascinating three-dimensional cushion effect with colour transitions. Thin lines of white grout accentuate the lighting effect on each tile.
Alternating shades of blue combine with the gently undulating surface of Artisan Colonial Blue Gloss subway tiles for a shimmering textured finish.Dark grout is used here to ground the surface in its deepest shades of blue.
.
We hope you found these bathroom tile trends an inspiration for your project. Take a look at our Bathroom Inspiration page here or browse our extensive range online.
You can also pop into your local Tile Space store, to see the tiles in person and get expert advice from one of our tile consultants.