7 Designs for Kitchen Splashback and Floors
If you're considering herringbone tiles for your kitchen floor or splashback but don't know where to start, then we are here to help!
Herringbone tiles are a timeless classic and can bring a traditional or contemporary touch to any kitchen design. Whether you're looking for an eye-catching splashback or subtle flooring, you are bound to create a unique look and feel.
The Herringbone pattern dates back to the Roman Empire, where it was used in buildings its roadways. This interlocking paving system was built on top of a base of crushed stone, which cleverly absorbed traffic compression (both vehicle and pedestrian), making it extremely stable and durable.
Our tile experts have put together this guide to answer your burning questions about herringbone tiles and inspire you on how to style them in your home.
.
Will herringbone tile go out of style?
Herringbone is a pattern that will never go out of style. It is a classic design that brings movement and character to any space.
The focal point of the design naturally draws your eye in the direction you will go creating a cohesive look in your walls or flooring.
Featured Guide: Top 7 Kitchen Tile Trends In New Zealand for 2023
.
Which direction should herringbone tile be laid?
Herringbone tile patterns can be laid in multiple directions. Generally speaking, herringbone tiles are laid in a vertical or horizontal zig-zag pattern to create a more classic look.
However, some people prefer to lay them diagonally for a more contemporary style.
.
Are herringbone and chevron the same thing?
No, herringbone and chevron tiles are not the same. Herringbone tiles feature a V-shaped pattern with two lines of tiles at 90-degree angles to one another. Whereas chevrons feature a single line of repeating arrows.
.
What size tile is best for herringbone backsplash?
The size of the tile you opt for may depend on the area's size and shape. You can opt for either patterned mosaic sheet tiles or use rectangular tiles and arrange them in a herringbone pattern.
Related Guide: The Beginner's Guide to Choosing Kitchen Tiles in NZ
.
Mosaic Herringbone Sheets:
Mosaic herringbone sheet tiles are ideal for creating an intricate yet classic design.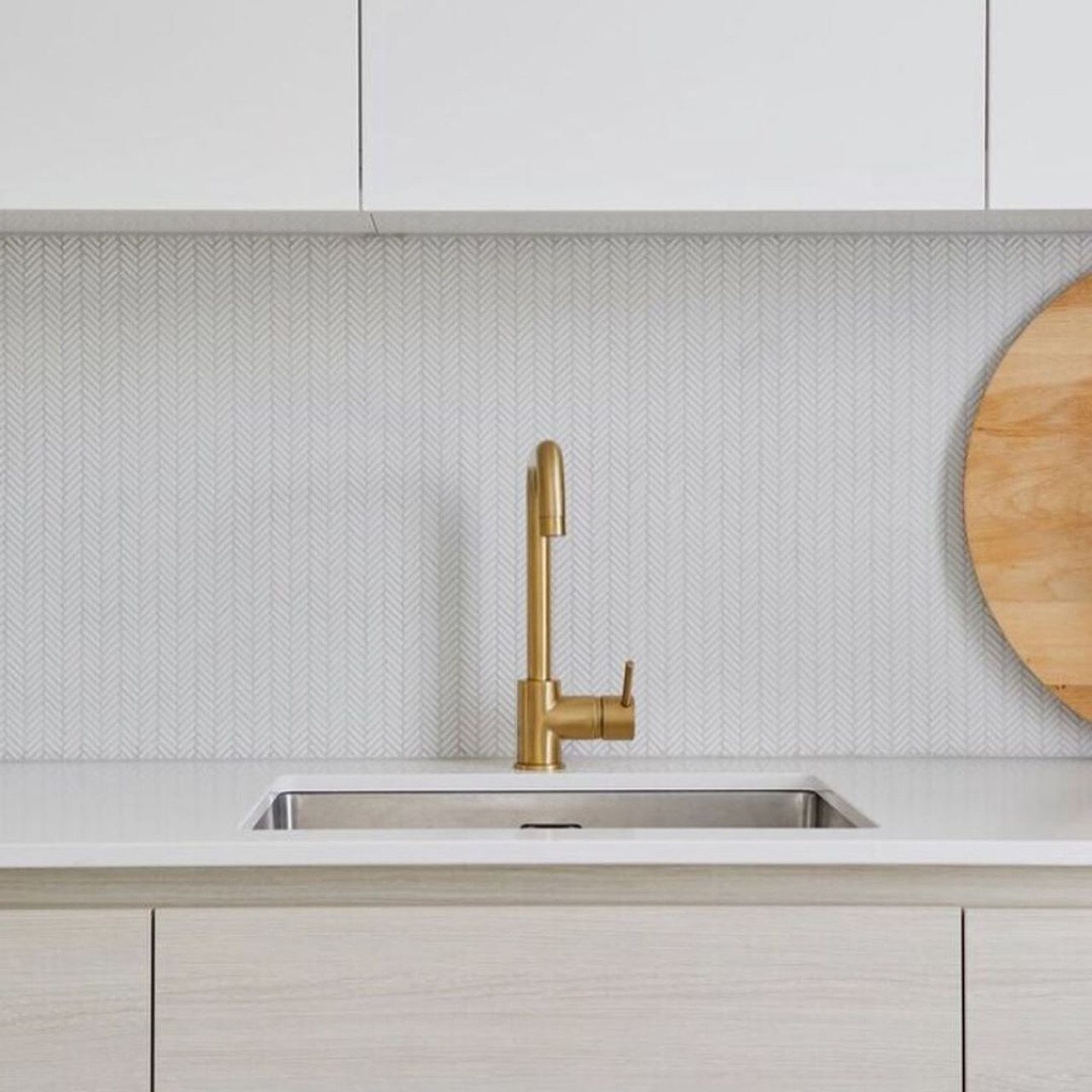 .
Rectangular Tiles:
Larger rectangular tiles create a more contemporary look. Rectangular tiles are best suited to cover large amounts of space.
.
6 Herringbone Splashback and Floor Tile Designs:
.
1. Classic White Herringbone Tiles for Kitchen Splashback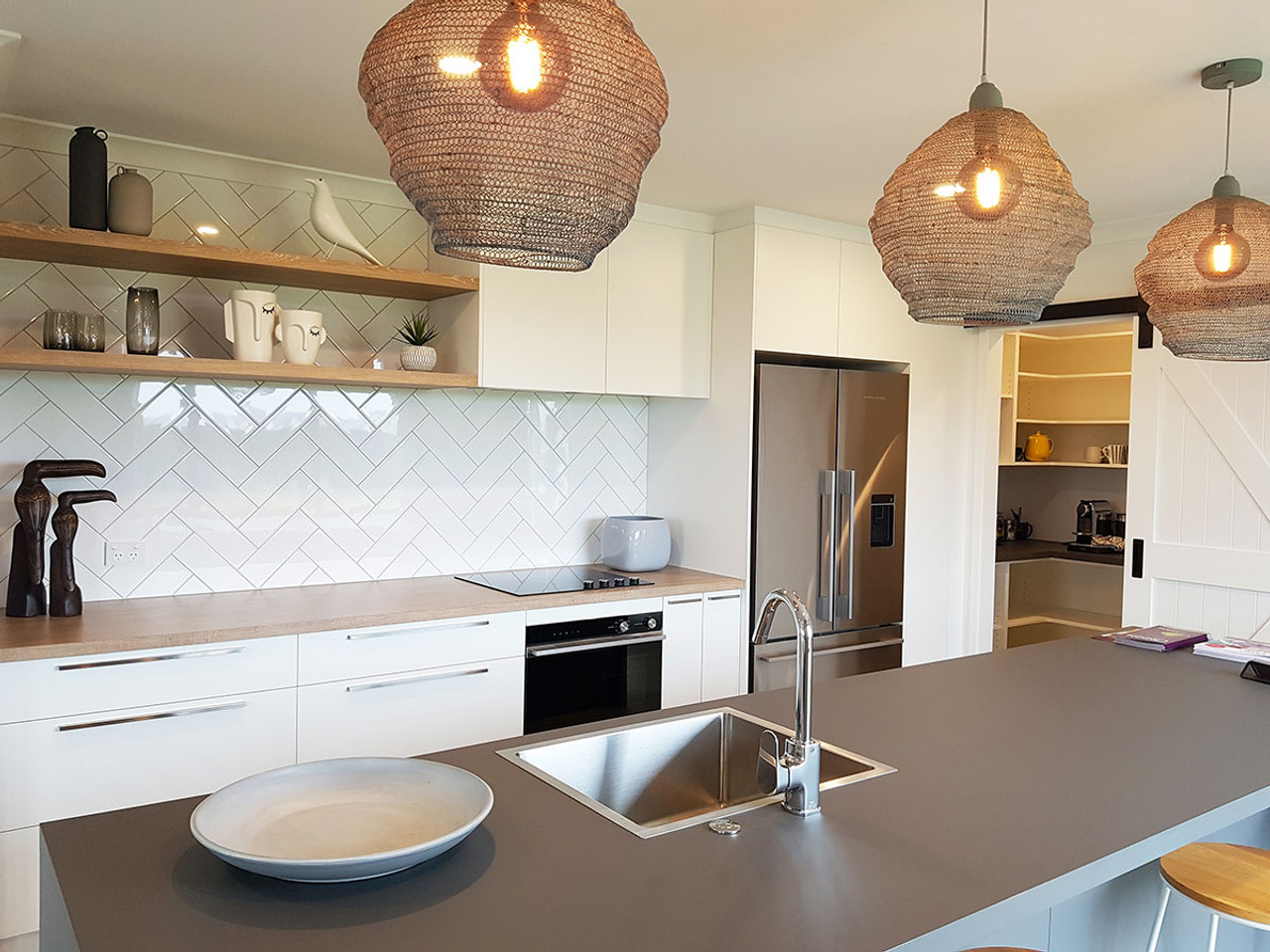 White herringbone tiles create a classic, timeless kitchen wall. They are perfect for adding natural texture to any kitchen.
.
2. Coloured Herringbone Tile Splashbacks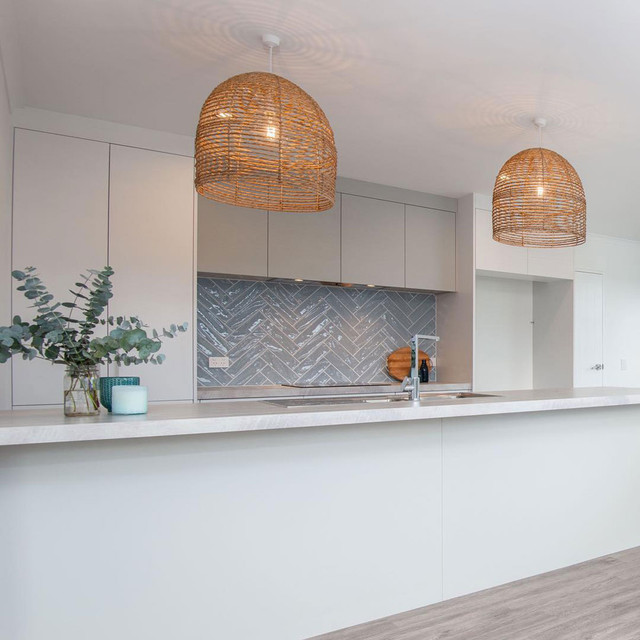 If you're looking to inject some colour and vibrancy into your kitchen, coloured herringbone tiles are a great choice. From subtle pastels to bold and bright colours, you can create an eye-catching look for your kitchen.
Don't Miss: 10 Absolutely-Gorgeous Kitchen Tile Ideas for NZ Homes
.
3. Dark and Moody Herringbone Tile Splashbacks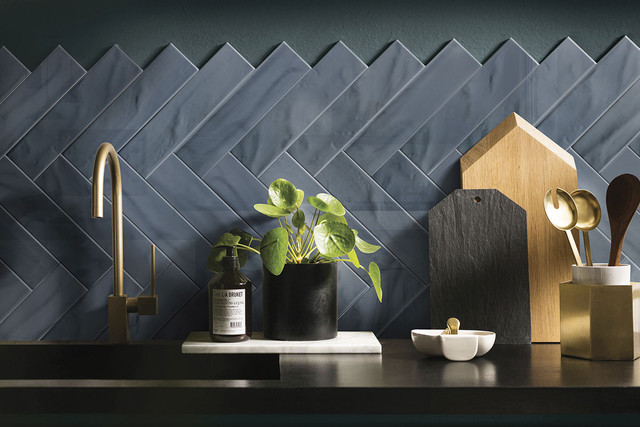 If you want to create a moody atmosphere in your kitchen, then dark herringbone tiles are an excellent choice. Whether you use matte or glossy black tiles, this will add a touch of drama and sophistication to any space.
.
4. Neutral Herringbone Kitchen Floor Tiles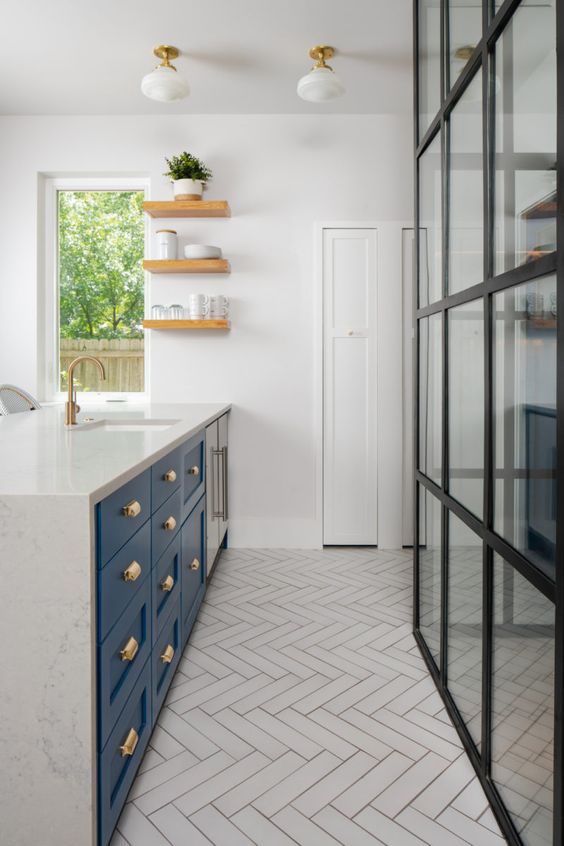 For a laid-back and cosy kitchen look, opt for neutral herringbone tiles.
.
5. Dark Herringbone Kitchen Floor Tiles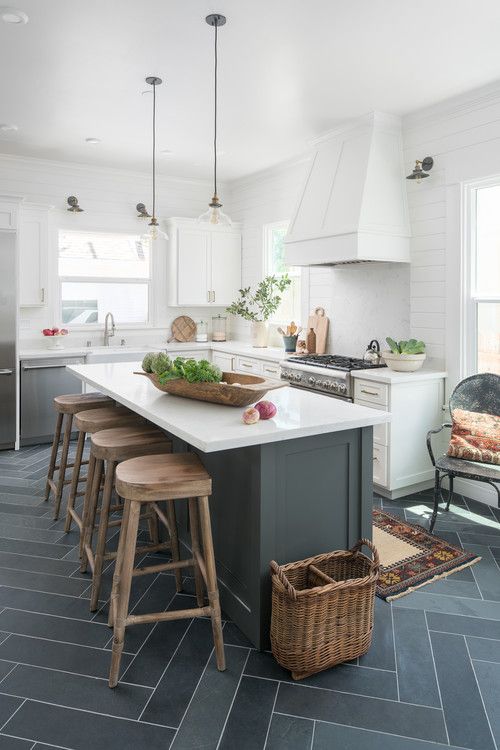 If you want to create a sophisticated atmosphere in your kitchen, then dark herringbone tiles are the way forward. They look great when combined with bright-coloured furniture and add depth to any floor space.
.
6. Stone-Look Herringbone Kitchen Floor Tiles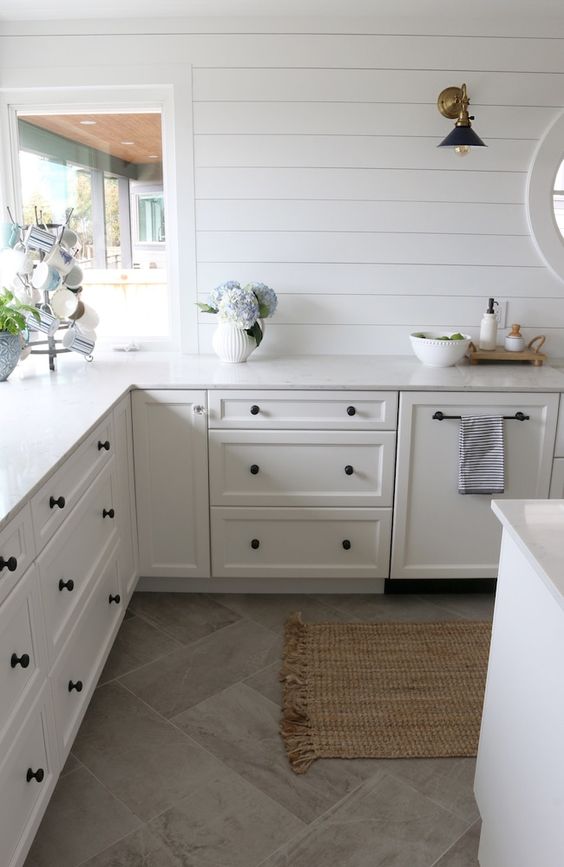 Stone-look herringbone tiles are a great choice for creating an earthy and natural feel in your kitchen. They're ideal for lending texture, character and warmth to any floor.
.
7. Wood-Look Herringbone Kitchen Floor Tiles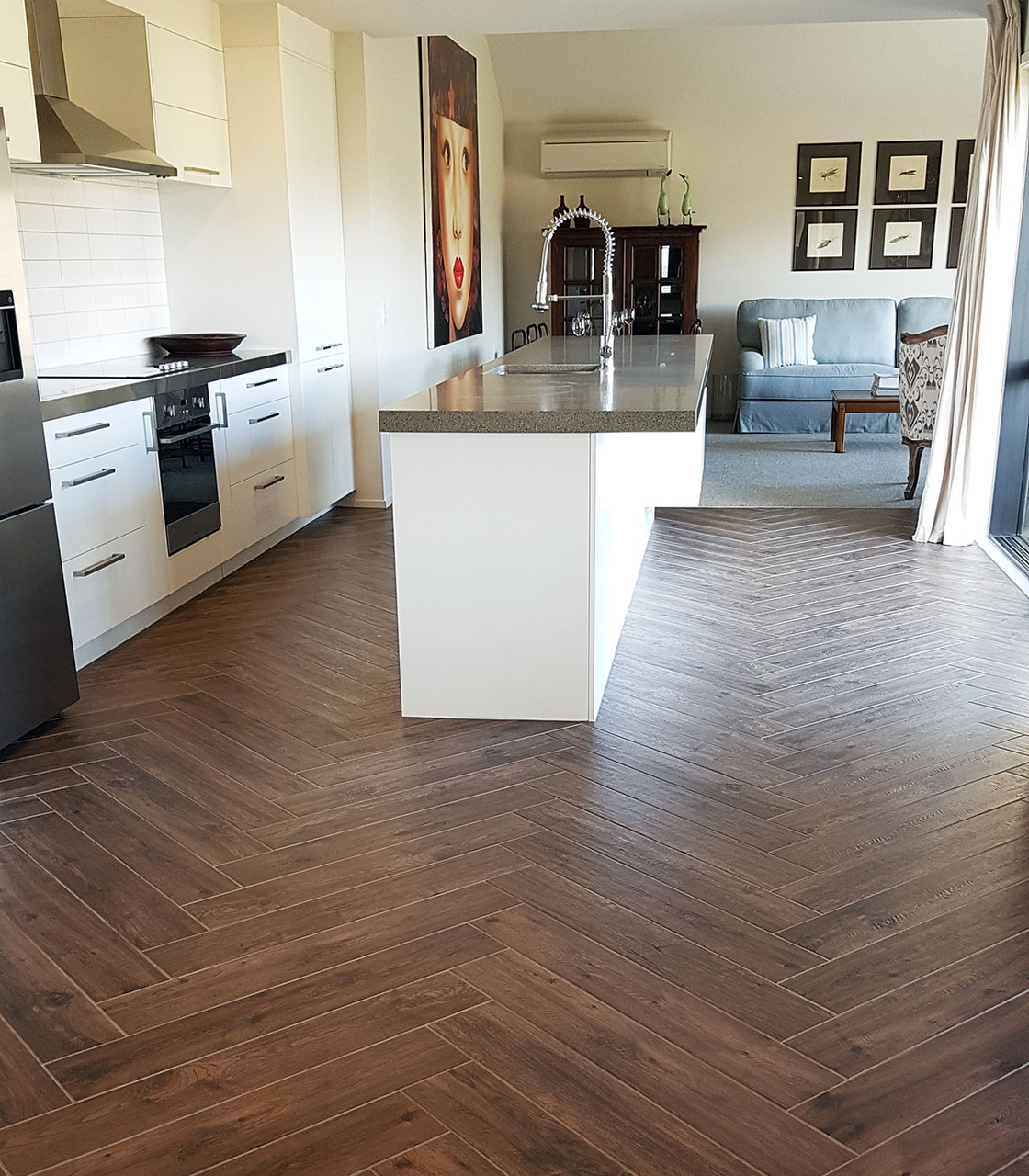 We have a fantastic range of ceramic and porcelain tiles that have the appearance of a hardwood floor, but are a stronger, more durable flooring option. They are scratch resistant, easy to clean and water-resistant.
At Tile Space, we have a huge selection of herringbone tiles to choose from to create a unique and stylish look in your kitchen.
Whether you opt for classic white tiles, bold colours, a natural stone look or a wood look, you're sure to find the perfect herringbone tile pattern that will bring your project to life.
With our expert advice, we are here to help you achieve the perfect herringbone kitchen look and make your project a success!
If you have any questions about choosing the right tiles for your project, don't hesitate to contact us - we're always happy to help! Find your nearest Tile Space store here for 1-1 tile advice.
For more tile ideas, head over to our Kitchen Tile Inspiration page here.