Tiled kitchen splashbacks are all the rage right now, and it's easy to see why. They add a wow factor to your kitchen while serving a practical purpose by making cleaning easy, keeping your walls protected against moisture and increasing your home's resale value.
With so many options available for style, shape and colour, choosing a splashback tile can be overwhelming. So, to help make it easier, our tile experts picked the most popular splashback colours in NZ and answered your biggest questions about backsplash tile selection. Let's take a look!
.
What is the best colour for a splashback?
.
The Kayoborder Olive Gloss Finger Mosaic 19x144 from our new Japanese collection has been a hit with green being a trending colour for kitchens.
Green tiles are trending at the moment for splashbacks, but white is a classic. If you are going to go white, do something with texture for a bit of fun! Our new Japanese range is perfect as we have some white and cream options with a few speckles to add something different.
Green Japanese Tiles for splashbacks:
.
White Japanese tiles for splashbacks:
.
The 8 Most Popular Splashback Colours in New Zealand Right Now
Here are the top eight splashback colours that are currently trending in New Zealand.
.
1. Classic white tiled splashbacks
.
A timeless classic that never goes out of style. Experiment with different textures ranging from handmade effects like in the Artisan White Gloss tile to smooth, glossy finishes like the Costa Nova White Gloss tile.
.
2. Black Subway Tiled Splashbacks
.
The Artisan Graphite Gloss 6.5x20 tile

Make a bold statement with a sleek black splashback! You can pair a black subway tile backsplash with white cabinets for a monochromatic look or go for a unique effect by pairing it with colourful tones like in the example above.
.
3. Blue subway tile kitchen backsplash
.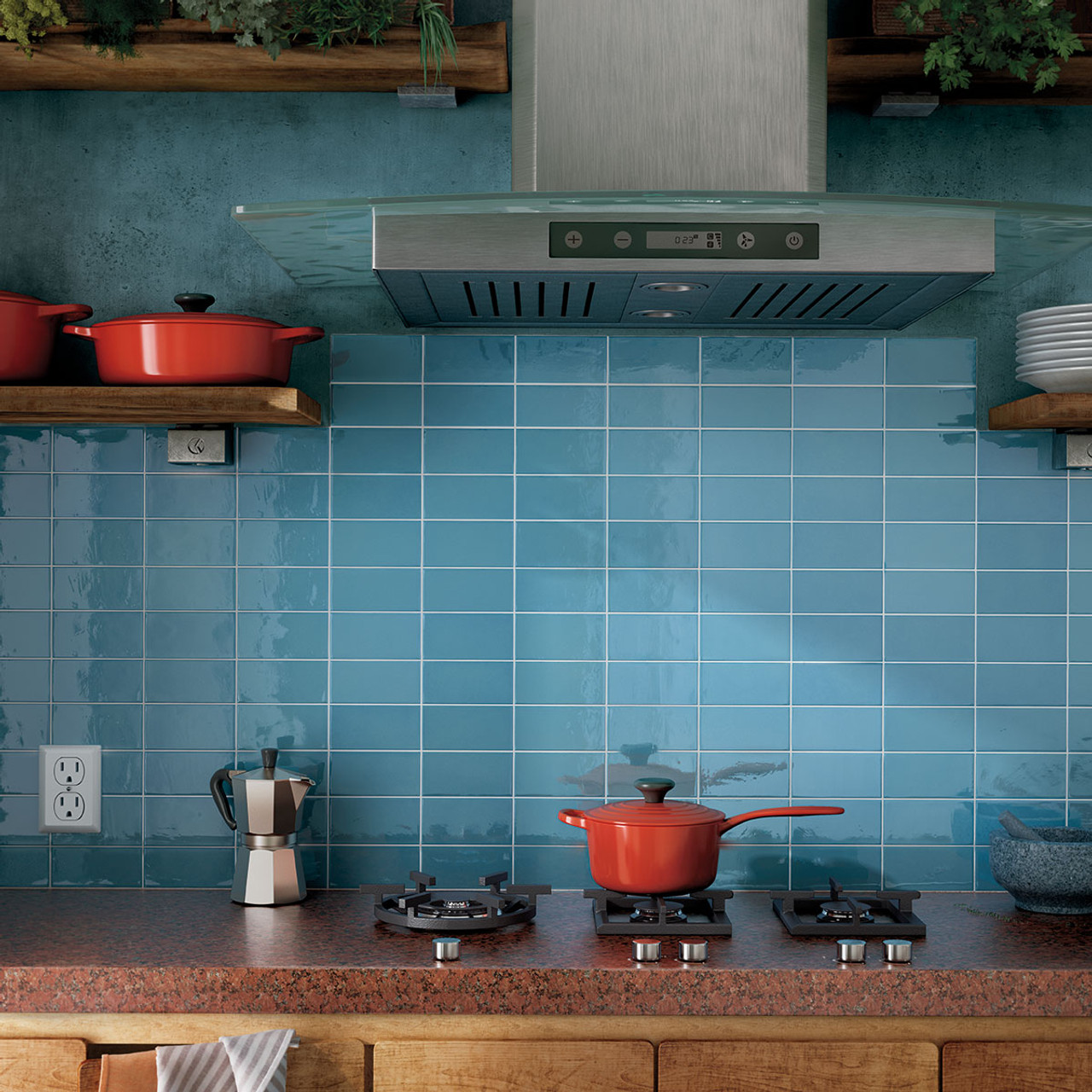 Village Azure Blue Gloss 6.5x20

Blue is a fantastic colour for a splashback, as it adds a sense of serenity and calm to your kitchen. Plus, they pair well with a variety of styles and décor ranging from country style to contemporary design.
Here are our favourite blue tiles from our wall-only tile collection.
.
4. Multi-coloured tile splashback
.
The Micro Subway Mix Mou Azure Terra
If you're feeling adventurous, why not go for a multi-coloured tile splashback? It will add an element of fun and creativity to your kitchen and transforms it from ordinary to extraordinary!
But remember to not go overboard - consider the overall aesthetic and colour scheme of your kitchen. The splashback should enhance the room, not overpower it.
A good way of avoiding this is to meet up with a Tile Space consultant who will advise and show you what colours would work for your space. You can book your complimentary tile consultation right here.
.
5. Pink splashback tiles
.
Yubi Blossom Gloss Finger Mosaic

Pink is another on-trend colour for splashbacks at the moment, and our Yubi Blossom Gloss Finger Mosaic pictured above is one of the most popular tiles in this range. Warm and mood-lifting, pink splashbacks are definitely a delightful addition to any kitchen.
Here are more of our favourite pink tiles to use in splashbacks.
.
6. Green splashback tiles
.
Costa Onda Tansy Green Matt 5x20

As we mentioned earlier, green splashbacks are one of the hottest trends this season with sage green being the most popular tone of all.
Neutral colours go well with green tiles in kitchens. Popular green kitchen tile looks often include pairings with black tiles or wood-tone tiles.
If you also want to jump on board the green tile trend, check out this post for more inspo - Green Kitchen Tiles: 5 Modern Ideas To Inspire Your Kitchen Reno.
.
7. Grey splashback tiles
.
The Piastrella Ash Mix 5x25 tile

Grey tiles used as a splashback can anchor your kitchen and provide a neutral background for more vibrant décor elements like copper or black tapware, and striking light fixtures.
Grey herringbone tile splashbacks are one of the most popular looks and you can easily lay this pattern using a subway tile like the Piastrella Ash Mix 5x25.
.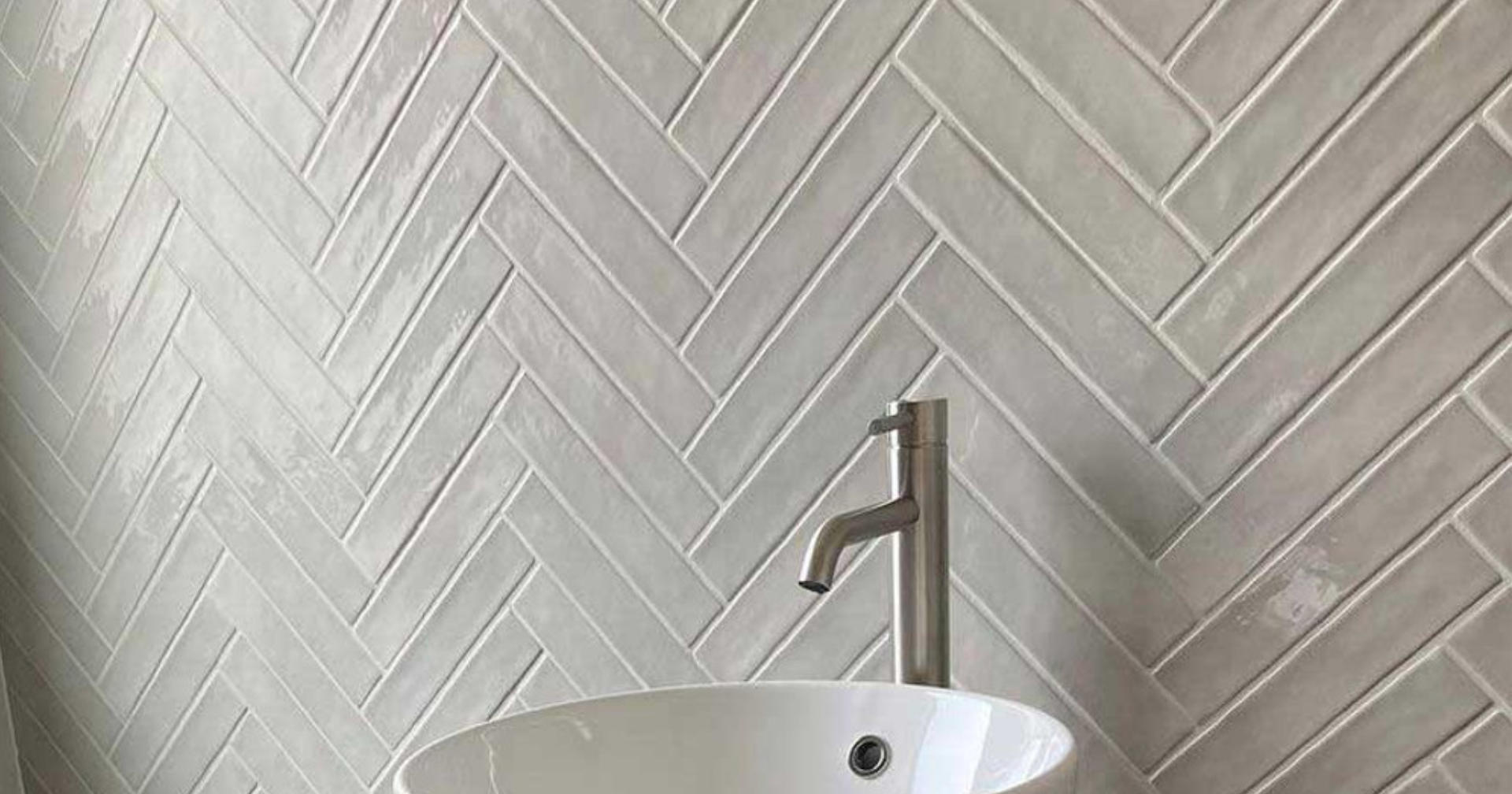 Featured Guide: 7 Stylish Ways To Use Herringbone Tiles In Your Kitchen
.
8. Black and white splashback tiles
.
Black and white splashback tiles add a timeless aesthetic to any kitchen. You can go for bold geometric patterns like the Maku Deco Light 20 pictured above or opt for a contemporary take like the Carrara Polished + Black 10mm Insert tile.
Either way, these tiles create a visually striking contrast that will elevate your kitchen's overall design.
.
FAQs About Splashback Tile Colours Answered By Kiwi Designer
Here's Moet Walker, Tile Space consultant and designer, answering some of the frequently asked questions about splashback colours.
.
What splashback colour goes with a white kitchen?
White kitchens are great because they create a blank canvas. So, you can do literally any colour! Be bold or keep it simple, depending on your preferences. Some people like to bring some personality into their kitchens with a coloured splashback!
.
Should the backsplash be lighter or darker than the walls?
"There's no right or wrong answer here; some people like to keep it all cohesive, while some like to create a feature wall for the splashback".
If you want to create a cohesive look, you could use tiles in all similar tones, whether they are light or dark. If you want to create a feature wall for the splashback, you would do the opposite (i.e. white walls with green tiles as shown in this kitchen design that uses the Artisan Moss Green Gloss tile.
.
.
Should the backsplash be the same colour as cabinets?
Contrast is better as it helps make the space feel more considered and cohesive! Picking something that works with the tones of the rest of your kitchen while not being identical colours throughout.
For example, if you have warm wooden cabinets, you would want to look at something with warm tones such as a warm grey, creamy white or a nice beige tone rather than a cool blue or cool grey, as these tones won't work together.
Here's an example of a beautifully designed kitchen with wooden cabinets and glossy white tiles. You can discover more about this look here.
.
.
Top tip: How to choose the right colour for your splashback
On picking the right colour, or colours, for your kitchen splashback, Moet had this to say,
"Advice I always give customers is to take the tile samples home and lean them in the kitchen, leave them there for a few days and walk into the space at different times of the day, i.e. when it's bright and sunny and when it is night time and all the lights are on.
This is to avoid picking something that looks fabulous during the day but then you install it and see it in artificial light at night time and realise it doesn't look so great with lights. It also gives you a chance to see which one you are more drawn to out of your options".
If you need more help with choosing kitchen tiles, read this - How To Choose Kitchen Wall Tiles.
.
Final Thoughts On Best Splashback Colours
And there you have it, the most popular splashback colours in New Zealand; white, black, blue, multi-coloured, pink, green, grey, and black and white. Here are a few more key points that you should keep in mind:
Green tiles are trending for splashbacks, but white remains classic
The colour of the splashback can be lighter or darker than the walls, depending on your preference.
The splashback colour should work with the tones of the rest of the kitchen
To pick the right colour for your splashback, order a few tile samples and place them in your kitchen to see how they appear in different lighting.
If you need more help with choosing kitchen tiles, visit your local Tile Space store and chat with a helpful consultant for personalised advice and recommendations.
Good luck!
.