Are you looking for a way to add style and sophistication to your outdoor space? Concrete-look tiles may be the perfect solution for you!
Concrete-look tiles are trending right now, and for a good reason – they're stylish, versatile, and durable.
Tile Space is proud to offer a stunning range of concrete look outdoor tiles, perfect for any renovation or new home project.
This article will explore some of the most popular concrete-look tile trends and explain why they're so popular. We hope this article inspires you in your next tiling project!
.
What's in this article;
.
What are current tile trends?
Current trending tiles for outdoor areas are mainly natural stone or concrete-look tiles.
Of the two, concrete-look tiles are highly popular due to their durability, versatility and ability to create a stylish yet modern look without the high cost compared to natural concrete tile.
Concrete-look porcelain tiles are highly resistant to staining, so they're perfect for outdoor patio areas. All porcelain tiles are non-porous, so they cant stain.
.
What is the most popular floor tile colour?
The most popular colour for concrete-look tiles is grey. Grey tiles are timeless and can easily be integrated into any existing décor.
Warmer greys are especially popular in New Zealand, as they make spaces more inviting in cooler months.
They also work well with various furniture pieces and accessories, allowing you to create a unique outdoor space that reflects your style.
.
5 Stunning Concrete Look Tile Trends
1. The Industrial Look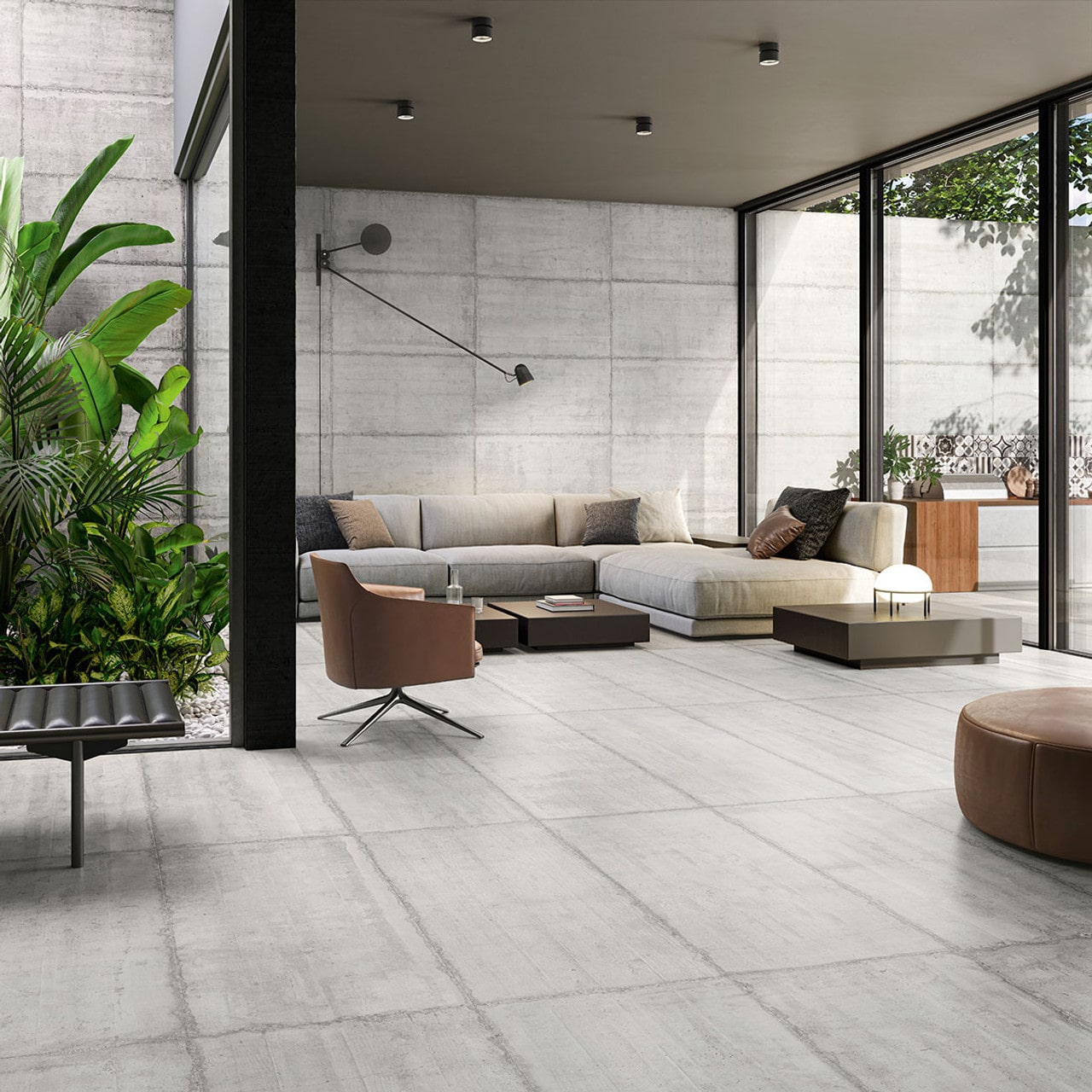 If you want to create an industrial aesthetic, then concrete-look tiles are a great choice.
The classic grey tones of these tiles work perfectly with exposed brick and other raw textures, allowing you to achieve the perfect industrial vibe.
Our Form Cement Grip Tile is perfect for creating an industrial feel.
An industrial concrete-inspired Italian porcelain tile with emphasised rustic edges provides a modern take on the traditional industrial look.
2. Minimalism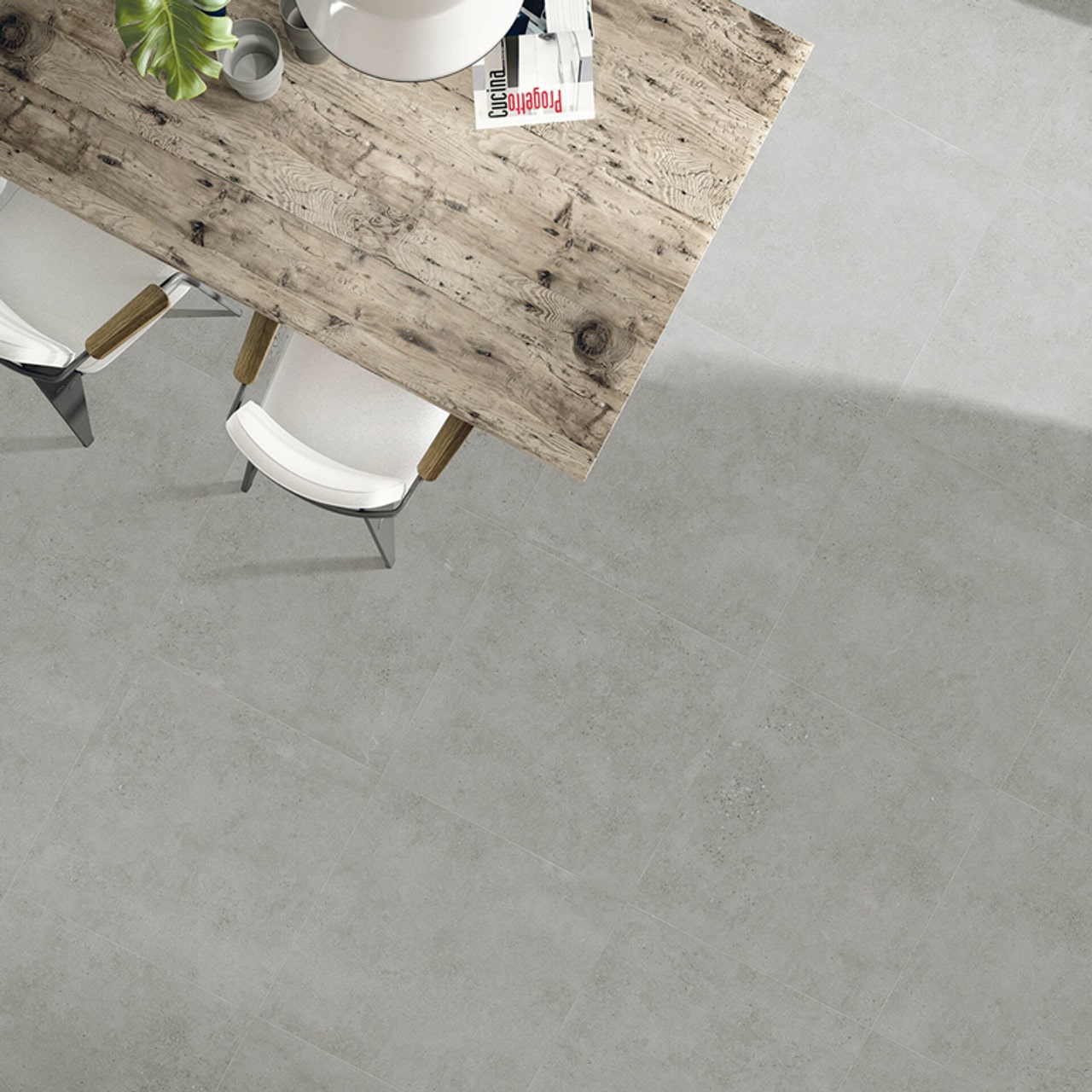 Concrete look tiles are perfect for creating a minimalistic look. The grey tones of these tiles work well with monochromatic décor, allowing you to create a sleek and modern outdoor space.
Our Sierra Grey Grip Tile is a seamless mix of grey tones and a subtle, textured surface that gives it natural concrete feel. It has anti-slip properties, making it perfect for outdoor areas where safety is paramount.
.
3. Light and Earthy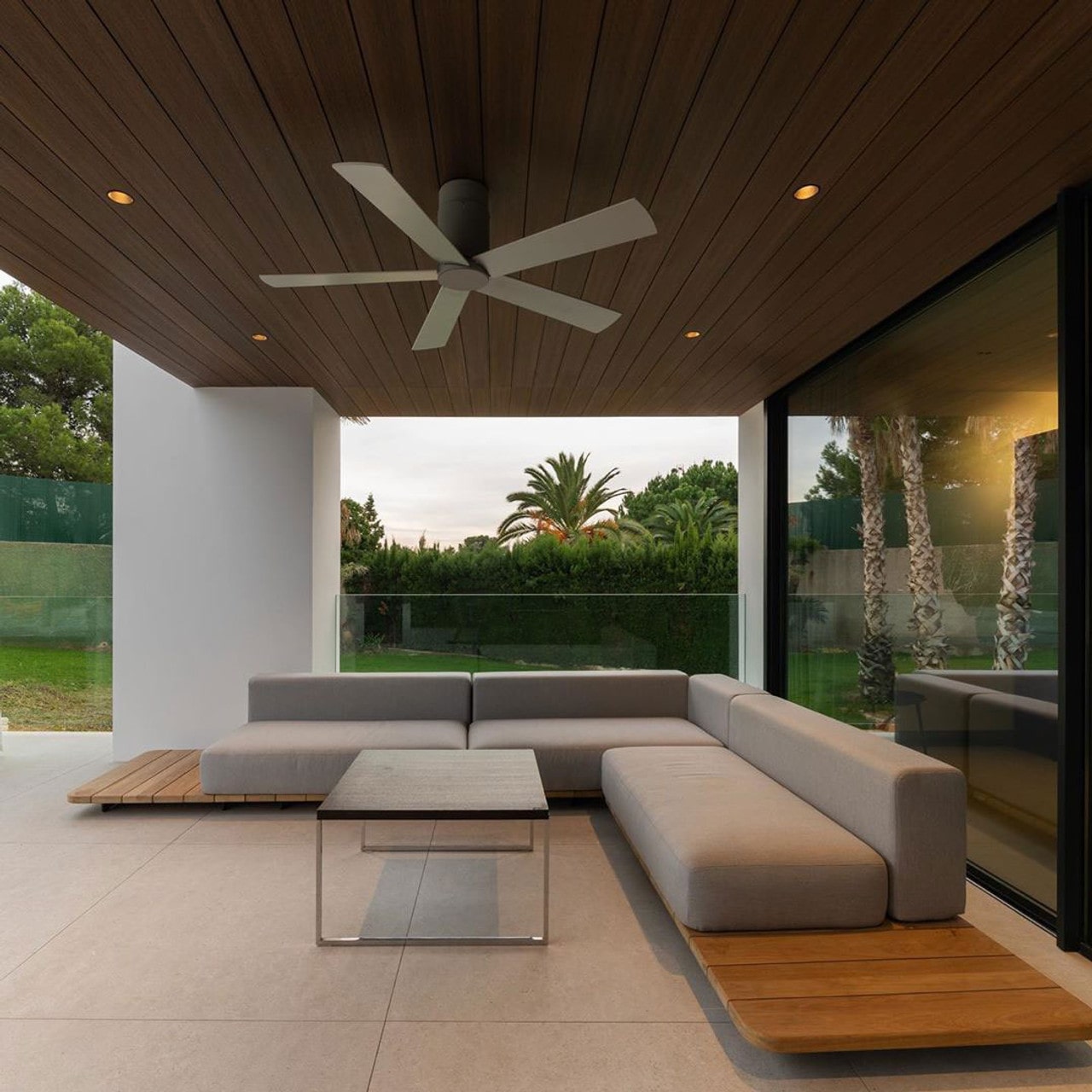 Concrete-look tiles are still the perfect choice if you want to create light and airy outdoor space.
Opt for light and warmer tones - and pair them with natural materials like wood and plants. This will help bring balance to your outdoor area and make it more inviting.
Our Beren Light Grey Grip 60 is a unique lighter tile with a contemporary concrete look. It has a delicate, textured surface that catches the light and creates an interesting optical effect.
4. Organic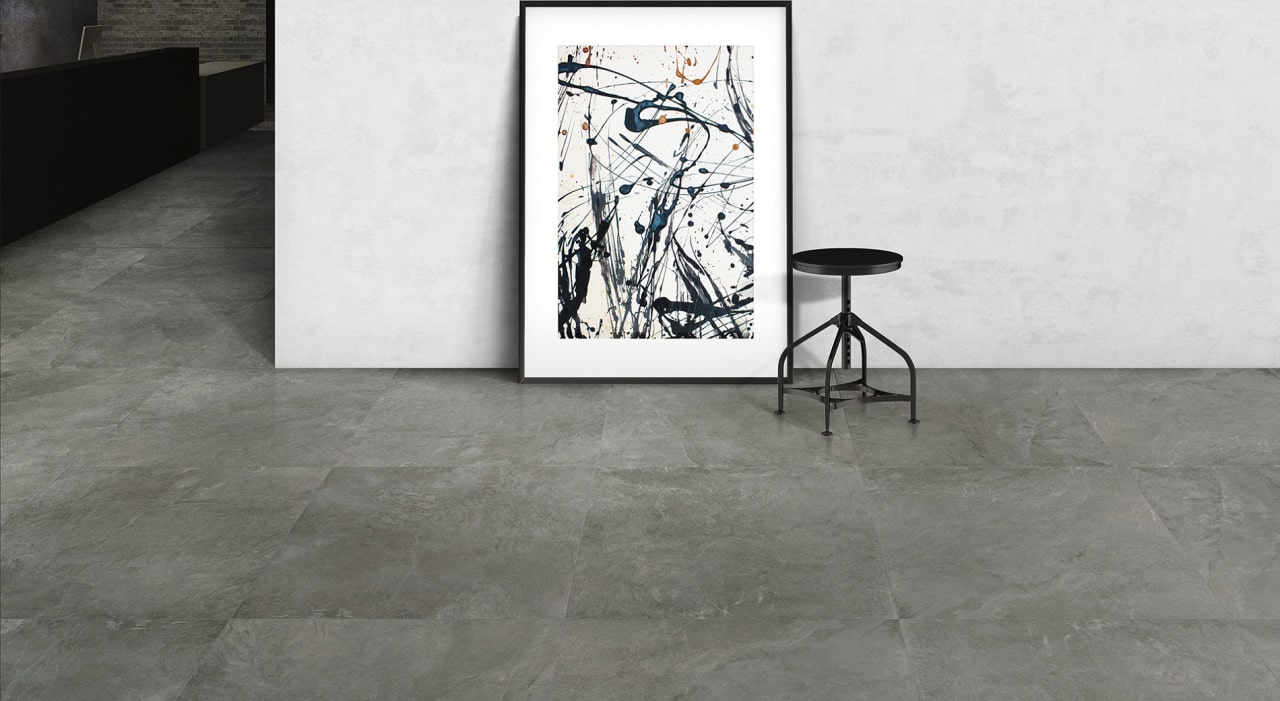 If you're looking for a tile with an organic, natural feel, then textured mid-grey tiles are a great option.
These concrete-look tiles give a softer appearance of concrete and work well in outdoor spaces that have a more rustic, earthy feel.
Our Niagara Grey Grip Tile is a beautiful concrete-inspired porcelain tile with a unique stone effect.
Its muted grey shades and slightly textured surface create an organic and rustic look that's perfect for outdoor spaces.
.
5. Creative Concrete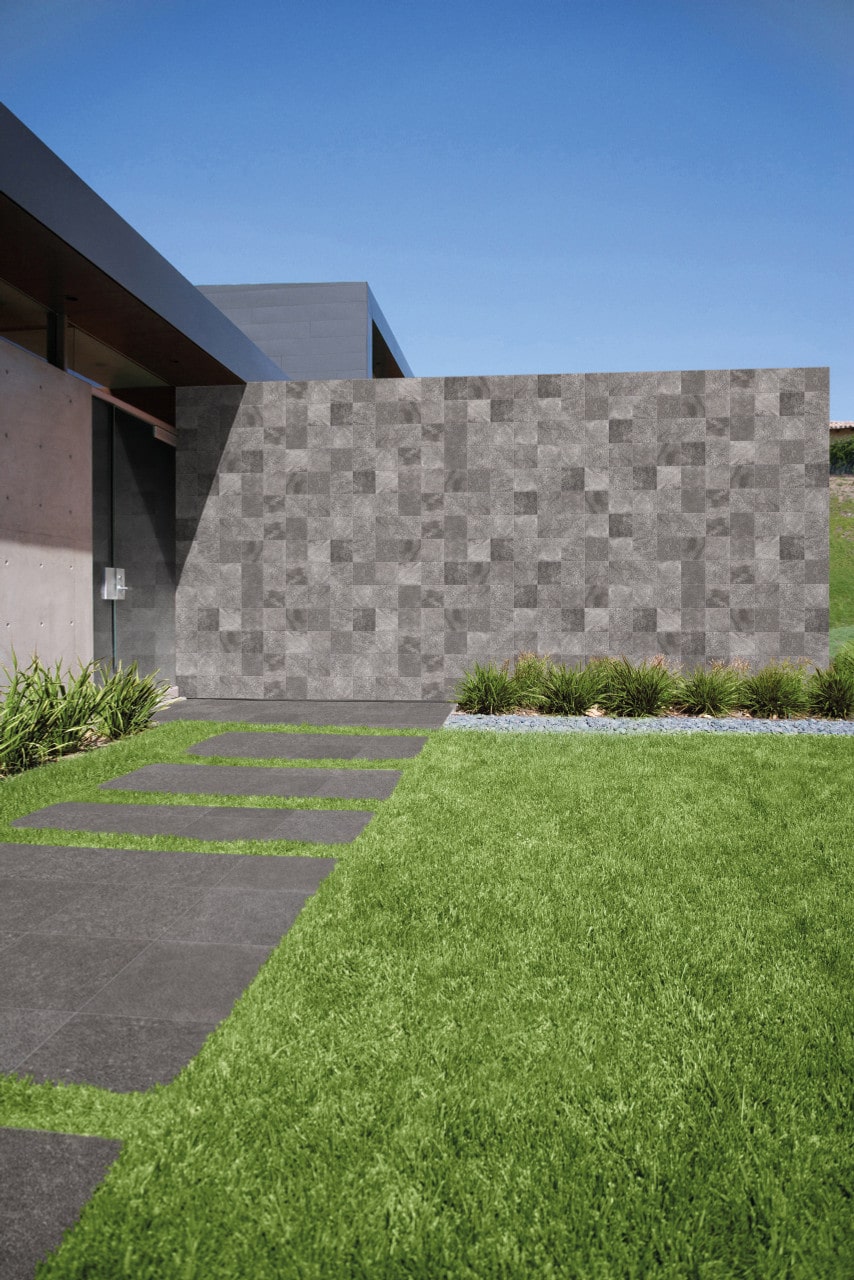 Patterns can inject some personality into your space and create an eye-catching feature wall or floor.
Tiles can be made of several different shades and arranged in an alternating pattern for the perfect concrete-like finish. This is a great way to add texture and interest to your outdoor space.
Our Magma Rock Grigia Grip Tile is a smaller square tile inspired by natural lava. 
It has an exciting blend of grey, black and white tones, providing a unique concrete-like finish. It's perfect for creating a feature wall or pathway in your outdoor area.
.
Why choose concrete-look tiles?
Concrete-look porcelain tiles are a great way to bring a modern, stylish edge to any outdoor space.
Tiles that mimic the look and feel of concrete provide durability and longevity, perfect for areas exposed to the elements.
Many different styles are available, from subtle greys to brighter hues and even metallically infused designs. The possibilities are endless!
Whether your outdoor area is large or small, there's sure to be a tile option perfect for you.
SHOP CONCRETE LOOK OUTDOOR TILES
.
Feeling inspired? Visit us in-store to see our wide range of concrete-look tiles. We have something to suit any style and budget!
With the right tile, you can transform any outdoor area. Our team of experts is dedicated to helping you create stunning spaces, so let us help you bring your vision to life!
We guarantee you won't be disappointed.