Are you looking to incorporate trendy pool tiles into your newest pool build or renovation? Well, look no further than Tile Space!
Our industry experts have hand-picked five of the most stunning pool tile trends this year has seen, and we can only expect to see more and more in 2023!
SPACER
What's in this article;
SPACER
Is there a special tile for pools?
Yes, pool tiles are specifically designed for wet environments like pools and spas. Porcelain and glass tiles are the most popular choice for pool tiles due to their resistance to water, temperature changes, fading or cracking.
Featured Guide: The Beginner's Guide to Pool Tiles
SPACER
What is the most popular pool tile colour?
Shades of blue and green are the most popular colour options for pool tiles. These colours help create a tranquil atmosphere which is perfect for relaxing by the pool.
Related Guide: Are Black Pool Tiles a Good Idea? Compare the Pros & Cons
SPACER
What is the most popular pool surface?
Glass mosaic tiles are becoming increasingly popular for pool surfaces because of their incredible reflective qualities that create a beautiful shimmer effect. They are also extremely durable and easy to clean.
At Tile Space, we stock one of the best mosaic ranges in the world, Bisazza. Bisazza's revolutionary hotmelt system offers the maximum adhesion and UV resistance available on the market.
Related Guide: Beautiful Bisazza Pools
SPACER
5 Stunning Pool Tile Trends
SPACER
1. Dark and Daring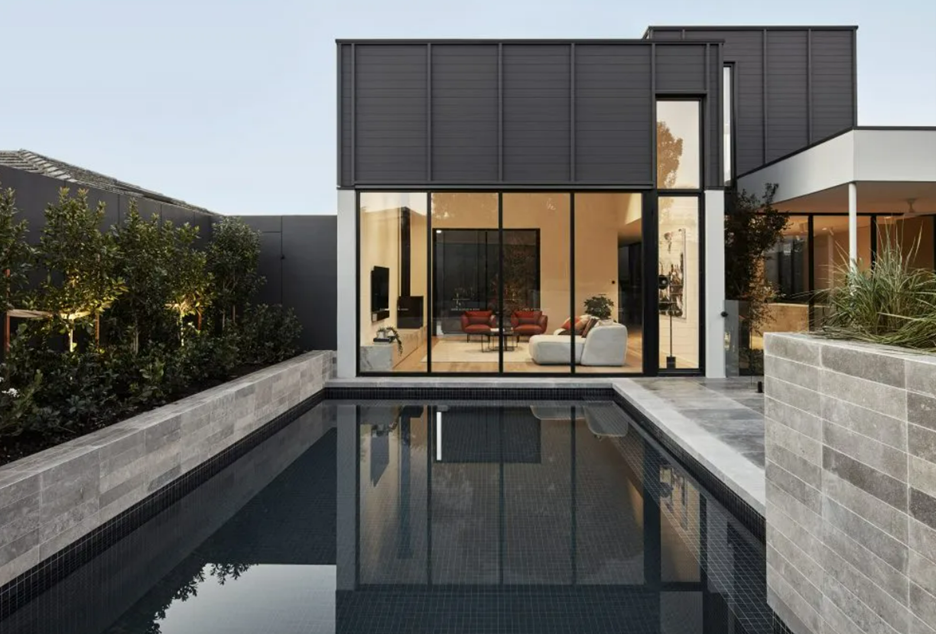 Using darker shades and tones creates a bold, sleek look. Blacks, dark greys and dark blues are used to create a chic, modern style that stands out from the crowd.
Related Guide: 5 Classic Styles For Black Pool Tiles
SPACER
2. Mix and Match Your Finishes
This trend combines different finishes to create a unique look in your pool area. You can mix tiles of the same colour family but different textures or patterns for an eye-catching design.
SPACER
3. Shades of Grey
Grey has taken over in interior design trends, and pools are no exception. Combining different shades of grey will create a contemporary, calming atmosphere that is perfect for relaxation.
SPACER
4. Playful Retro
This trend takes us back in time with a playful twist. Colours like turquoise and mint are combined with bold, geometric patterns for a modernised vintage look that will create a classic yet trendsetting pool design.
SPACER
5. Cool and Calm
This trend is all about creating a peaceful, calm atmosphere. Combine soft blues and whites for an elegant pool design that is perfect for unwinding after a long day.
SPACER
How do I choose a pool design?
Choosing the right pool design for your space can be a daunting task. The best way to tackle it, however, is to create a design that reflects your personal style and your space's needs.SPACER
Things to consider;
Budget
Tile shape, colour and finish
Size and shape of your pool
Your existing outdoor space eg. size, landscaping, patio
Surrounding patio/deck material
The location of your pool in relation to the sun
Featured Guide: The Beginner's Guide to Pool Coping Tiles
If you are planning on renovating or building a new pool or are even considering it, the team at Tile Space are here to help!
Whether it's custom design advice or a trend-inspired look, we can help you create the perfect pool oasis! And with NZ's largest tile range, we guarantee we have the right tiles for your project.
For more inspiration, visit us in-store or browse our products online.